I know you enjoy Paris, but I'm sure you love it even more during the magical festive season!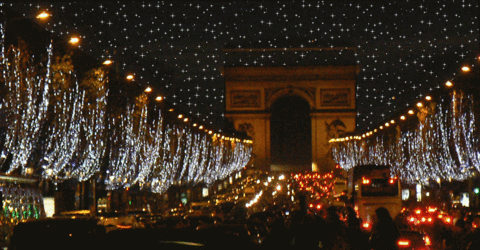 Christmas markets in Paris 
Christmas markets were originally born in Germany and in Alsace. For 30 years, they have been extended in the whole Europe and specially in Paris.  The City of Lights is the perfect place to enjoy them! You will find some in all Parisian districts and all with their own typical specialities. For example, a vegan Christmas market will open at la Recyclerie (18th district) on the week-end of December 16th, offering a wide range of vegan products such as chocolates and sweets. In Gare de l'Est, another one will be dedicated to Alsace. And as the Christmas market at the Champs-Elysées will not open this year, a new one is opening at « Les Halles ». It offers 70 cottages until December 31st.  With  all the Christmas markets available, you will find one for you :-)!
Department stores at Christmas time
I'm working really near famous department stores « Printemps » & « Galeries Lafayette » and this year I have been impressed by the Galeries Lafayette Christmas tree which is really colorful! Also, the Pere Noel studio has been installed at the 5th floor and you could meet him until December 24 th;)
Regarding famous windows, many themes are illustrating the Printemps one this year. A toy Parade is also organised at « Le Printemps » by « La Grande récré ». It occurs every saturday from November 25th to December 16th from 2 to 6pm.
Christmas activities 
Christmas at Les Invalides
From December 15th to December 31st, the army museum will organize for the second year « Noël aux Invalides ». Multiple animations will be proposed to the visitors. Every evening at nightfall, the show « The Dome with Candles » will illuminate the church dome with music : a dazzling spectacle not to be missed!
Parisian rinks
Hotel de Ville & Champs-Elysées rinks will not be installed this year but be assured that a nice one will be placed near Eiffel tower, from December 21st to January 8th. Come and glide under the magical decor !
Trampoline with view on Paris
An original way to see Paris during the festive season! Every weekend in December, and every day during the Christmas holidays from December 25th to January 7th, the Panoramic Observatory of the Montparnasse Tower joins forces with France Trampoline and transforms itself into an extraordinary playground.  The terrace Panoramic makes way for several trampolines to let your acrobatics and pirouettes run out. It's the first time that such an activity is organised in Paris! It's suitable for both children and adults. This nice activity is the perfect opportunity to enjoy Paris, with a magnificent 360 ° view of the Eiffel Tower and all the Parisian monuments!